In this article, we are going to review top 5 grocery stores conveniently located close to University City Apartments.
Interactive map of all top 5 supermarkets in area
1) Giant Heirloom Market
Right around the corner from University City Apartments, just under a mile away at 3401 Chesnut Street in Philly, you'll stumble upon the gem that is Giant Heirloom Market. This place is pretty awesome, filled with neatly stacked shelves and overflowing with good vibes.
If you're into wine and cheese, this spot is a real treat. You'll be amazed by the variety on offer. New to the game or a seasoned pro, you're sure to find something to tickle your fancy. Plus, they've got this cool thing called Sushi Wednesday – fresh, tasty sushi made on the spot.
Their beer and wine section? It's huge! If you're looking for a specific IPA or a special bottle of Chardonnay, chances are you'll find it here. They might not always have the exact brand you're after, but hey, exploring new options is part of the fun, right?
Then there's the produce section. Think fresh fruits and veggies as far as the eye can see. It's big, it's fresh, and it's great. The best part? Prices here are pretty reasonable, especially compared to some other supermarket chains.
There's just one downside to all of this. The store's so good, it's popular. So, if you're planning a visit, be ready for some company. But trust me, it's totally worth it.
Pros: good pricing, great selection of products, impressive wine, cheese, and beer sections, Sushi Wednesday
Cons: crowded, long lines
2) ACME Market
Half a mile from University City Apartments, tucked away at 4001 Walnut Street in Philadelphia, you'll find Acme Market. This place used to be a FreshGrocery Store, but now it's a new grocery store under Acme's management, and they're doing a great job.
The folks working here? Super helpful. They're always ready to lend a hand if you need one. The store itself is stocked with all the usual stuff you'd expect, and they've even got a pretty cool international food section.
But the real game-changer? Delivery. You can get your groceries delivered right to your doorstep, and they even let you schedule ahead of time. Or, if you're someone who prefers to choose your own produce but hates wandering around the store, you can have a picker do your shopping and you just swing by to pick it up. Talk about convenience!
There's subsidized parking for ACME customers in the garage right above the store – only four bucks. Not bad, right?
One thing you should definitely check out is their app. It's super handy and has a 'store mode' to help you find things while you're shopping. It's like having a personal store guide in your pocket.
Just a couple of things they could do better: the self-checkout counters can be a bit tricky. The indicator lights aren't always reliable and the line can get chaotic. They could definitely use a bit more organization there. And, there's a restroom on the second floor, but it's kind of a secret mission to use it. You'll need to swing by customer service and get a code. A bit odd, but hey, at least there's a restroom!
All in all, Acme Market is a pretty cool spot for your grocery needs. It's got a few quirks, but the pros far outweigh the cons.
Pros: Good selection of products, subsidized parking, delivery, helpful store application
Cons: prices are higher in comparison to other grocery stores
3) Aldi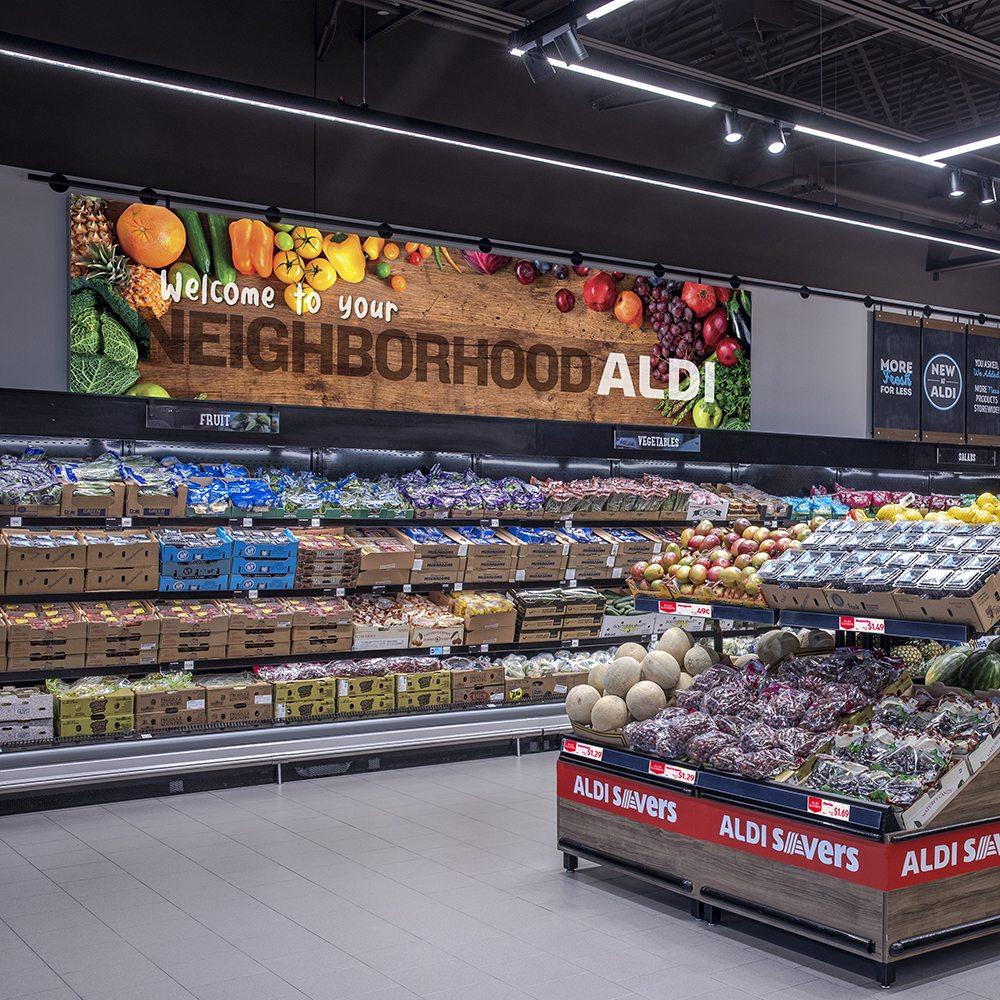 Just a short 0.8-mile walk from University City Apartments, over on 4421 Market Street in West Philly, you'll find Aldi Supermarket. This spot is a total winner for convenient grocery shopping.
What's great about Aldi? It's a budget-friendly store that doesn't skimp on quality. They're really good at providing top-grade, non-name brand food items at competitive prices. So, you get more bang for your buck! Remember to bring a quarter for unlocking the shopping carts and your own recyclable shopping bags – they're all about that eco-friendly vibe.
Inside, the store is squeaky clean and stocked up well. Whether it's fresh produce or pantry staples, they've got you covered. Aldi's staff deserves a shoutout too. They're friendly and always ready to help. It really adds to the overall positive grocery shopping experience.
Plus, the store's got the essentials nailed down, and they've got a pretty speedy checkout process too. That's what we call super convenient!
Sure, it can get a bit crowded at times, and the selection isn't as vast as you'd find at Giant or Acme, but all the essentials are there. So, if you're in West Philly and in need of a quick grocery run, Aldi Supermarket is your go-to place. It's simple, convenient, and affordable. What more could you ask for?
Pros: great pricing, clean store, fresh grocers, fresh produce, close to University city Apartments, has parking
Cons: less selection compared to other grocery stores in the area
4) Trader joe's
Just a quick 0.8-mile jaunt from University City Apartments, nestled at 2040 Market Street, Philadelphia, is the delightful Trader Joe's Supermarket. This place is a solid choice for grocery shopping, especially if you're in the market for fresh veggies, bakery items, ice cream, and other staples, all at super reasonable prices.
Walking into Trader Joe's, you're hit with an organized vibe that just makes shopping easier. The arrangements are intuitive, and the efficient billing system keeps things moving smoothly, meaning you spend less time waiting in line and more time enjoying your goodies.
Plus, they've got a great team running the show. The staff in charge of the counters keep the shelves replenished at a quick pace, so you're not left searching for items that are out of stock.
The pros? Good prices, a clean store, and a well-stocked, orderly shopping environment. It's everything you could want in a grocery store.
The only minor hitch? It's not the closest store to University City Apartments, since it's closer to center city. But, at just 0.8 miles away, it's still within a comfortable walking distance.
All in all, Trader Joe's is worth the slightly longer walk. It's got what you need, keeps things affordable, and the shopping experience is top-notch. You won't be disappointed.
5) Giant Food Stores
Just a short 1.6-mile trip from University City Apartments, at 60 N 23rd Street in Philadelphia, you'll find the vibrant Giant Food Store. Trust me, this place is a breath of fresh air in the world of grocery shopping.
One step inside and you'll see what I mean. This store is one of the cleanest, brightest grocery stores you'll ever come across. The aisles are super wide, so no bumping carts or dodging other shoppers. Just smooth, hassle-free browsing.
But what's really mind-blowing about this place is their in-store restaurant and beverage offerings. Yes, you read that right – a restaurant right in the middle of your grocery run. How cool is that?
When it comes to parking, they've got you covered. The parking garage is free for two whole hours, and it's even got 4 EV charging stations. So, while you're picking out your groceries, your ride's getting juiced up. Pretty neat, huh?
And for the wine and beer lovers out there, they've got a whole section just for you, stocked with a great selection of both domestic and imported beers. It's like a mini brewery tour without leaving the store.
Pros: Big Giant with a great selection, expanded parking with EV charging stations, not crowded, wine and beer section
Cons: not really the closest store to University City Apartments, located close to the center city